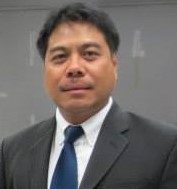 Romeo Aliac Ignacio
Barrister & Solicitor
The principal of the law office is Romeo Aliac Ignacio who was called to the Bar of Ontario in 2008. He was likewise called to the Philippine Bar in 1992. A former associate professor in business law, he taught at the University of the East in the Philippines. He served as auctioneer for Chinabank and acted as legal counsel for BKM-PNR-ITF (PNR Employees' Union) and Peoples' Journal and its sister publications.

He obtained his communication arts (BA) and law (LLB) degree in the Philippines, and completed the requirements given by the Federation of Law Societies of Canada in 2007.
He articled with the Toronto law firm of Skurka Spina Cugliari LLP where he trained in criminal, civil and family law. He received further training in personal injury when he joined a boutique Mississauga law firm.
He acts as legal adviser to different community organizations in Toronto and writes for community newspapers.
He is a member of Lex Leonum Fraternitas of San Beda College, DeMolay Club of the University of the Philippines (U.P.) in Los Banos, U.P. Plebeians, and Free and Accepted Masons.